The force Vata is a union of air and space. These element's physical characteristics are cold, dry and light. Foods that are cold/dry/light taken in excess by a Vata pre-dominant person will cause their Vata dosha to become aggravated. Therefore to stay in balance it is good to have a regular helping of foods that are warm/moist/heavy. Here are some recipes, click on the tab to see the recipe:
Simple Daals (Legumes in a wet curry)
(Editor's note: Daals are like a hearty soup, suitable for Vata year round. Increase Ginger and/or Asafoetida if excess gas is experienced. Feel free to add small blanched peanuts or small quantities of vegetables as Daal begins to boil (examples are cut snow peas, green beans or peas).
Simple yet delicious daal(Legume). Indian cuisine has tens of varieties of daals (legumes or beans). And since they are grown in all parts of the country, there could be perhaps a hundred different combinations of recipes for daals.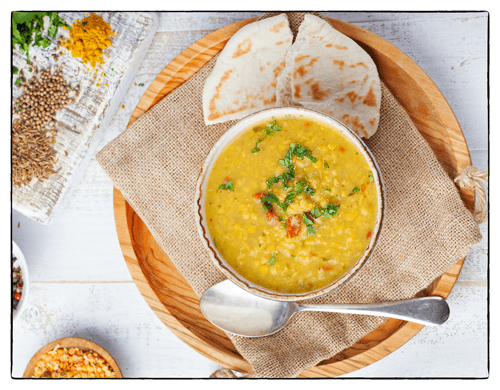 Ingredients:
2 cups any small-seeded daal (example Moong beans)
1.25 inch cube ginger, finely cut
2 sliced green chilies
½ teaspoon Turmeric powder
1 teaspoon whole Cumin seeds
½ teaspoon Asafoetida powder
4 table spoons oil
1 teaspoon salt
¼ teaspoon sugar
¼ cup unsalted, non-fried peanuts
Method:
1.Check that the daal does not have any stones. Wash in running water and set aside.
2.Put oil in a deep pan and fry Cumin, green chilies and Asafoetida in oil till the seeds crack
3.Put the rest of the ingredients and daal in this pan, just cover with water, tightly cover pan and boil till daal is totally cooked. Feel free to add boiling water to bring the daal to a consistency of choice. Serve.
Remarks:
Big beaned daals will take a longer time to cook, and also big beaned daals need more spices for them to be tasty. Consider using a pressure cooker. In a pressure cooker, keep heat on maximum till first pressure. Then reduce heat to a minimum, and exactly two minutes later, take off heat, and open when cooled down. Longer times for larger seeded daals. Increase or reduce amount of water, depending on how you like the final dish. Remember, for a daal to be properly cooked, it has to be slightly overcooked – the seeds should all be one and not be singularly discernable, and yet it should not all be a "paste".
An offering from the Heart – a Deepak Singh recipe. www.SpiritualJourneys.net
Indian Spiced Guacamole
Preparation time: 10 minutes
Yields 1 Cup
2 large avocados 1 Tbs. raw olive oil
Juice of ½ lime
1 Tbs. Celtic sea salt
1 tsp. brown mustard seeds
1 tsp. each: ground cumin & coriander
½ tsp. each: ground cardamom, cinnamon & caraway seed (optional)
1/4 tsp. cayenne pepper
½ tsp. ground black pepper
1/4 cup chopped fresh basil
Cut avocados in half, removing pits. Spoon avocado meat into a medium sized bowl & mash until creamy. Add olive oil, lime, celtic sea salt & spices. Mix well. Stir in chopped basil & serve. Delicious over quinoa with raw radishes and celery sticks.
Saffron Almond Milk
Preparation time: 10 minutes plus overnight soak
Serves 2
Benefits: Helps sound sleep and overall body hydration. Can also help soothe Vata-aggravated gas or bloating.
2 cups raw almonds
2 cups water
6 strands saffron
1 Tbs. cardamom
1 Tbs. raw honey or maple syrup (optional)
(Editor's Note: Feel free to substitute ready made almond milk from the grocery store, if that is easier.)
Soak almonds overnight in water or use raw almonds in a pinch. Whenever possible for Vata, remove almond skins if soaked.Place almonds in blender with 2 cups fresh water. Blend until smooth, adding more water for a thinner consistency. Strain through a cheesecloth and set aside the almond "meal" that is leftover*. Place milk in a saucepan over low heat and simmer with saffron & cardamom. Add sweetener if desired. A delicious aphrodisiac, this sweet, warm and restorative "tea" is especially appropriate after intimacy to replenish ojas, vital reproductive & bodily fluids. Leftover Almond meal can be set aside for a future dessert treat.Add 1 Tbs. honey, ½ tsp each; cinnamon, nutmeg & cardamom to every ½ Cup of Almond Meal and enjoy.You can also use it to make raw pie crusts that are delicious and nutritious throughout warm summer months. Combine almond meal with agave syrup and spices to taste, then press into pie pans.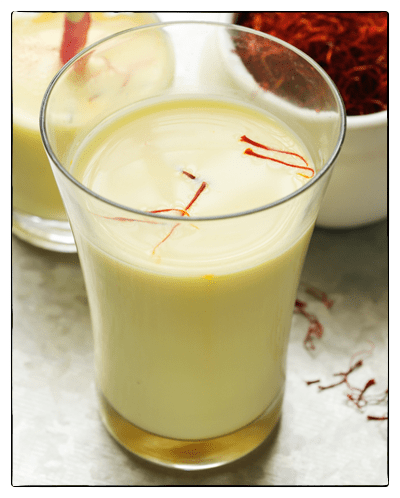 By Talya Lutzker. www.talyaskitchen.com
Mango Kulfi – Indian Mango Ice Cream Dessert
Ingredients
1 can (400 gr, 14 oz) sweetened condensed milk
1 can (850 gr) sweetened mango pulp. Prefer "Alphonso" mangoes
1 pinch saffron
1 to 2 tablespoons regular (whole) milk
Method
1.Put the mango pulp and condensed milk in a blender.
2.Heat the 1-2 tablespoons of milk in a small pan till it starts to boil.
3.Grind the saffron in the palm of your hand and sprinkle it in the boiling milk. Stir and pour in the blender.
4.Blend the mixture, and pour into serving dishes.
5.Store in freezer, and serve after 3-4 hours as it freezes, but has not totally solidified. Alternatively, freeze solid and microwave to a "slushy" consistency prior to serving.
Remarks
A heavy but delicious dessert. Normally cooked by boiling off the milk and using the creamy milk.
Coconut Spice Butternut Squash Soup
Ingredients (serves 6-8)
4 pounds whole butternut squash (about 2 medium), halved lengthwise and seeds removed
2 tablespoons ghee
1/2 medium yellow onion
4 cups water
1 can coconut milk
2 teaspoons Himalayan rock salt, plus more as needed
1 teaspoon cumin seeds
1 teaspoon mustard seeds
1/2 teaspoon paprika
1/4 teaspoon freshly ground black pepper, plus more as needed
1/2 cup toasted pumpkin seeds and/or cilantro, for garnish (optional)
Method
1.Heat the oven to 425°F and arrange a rack in the middle.
2. Line a baking sheet with aluminum foil. Place the squash pieces cut-side up on the baking sheet. Melt 1 tablespoon of ghee and brush all of it over the tops and insides of the squash halves Season with salt and pepper. Roast until knife tender, about 50 minutes to 1 hour.
3. Meanwhile, cut the onion into medium dice. Melt the remaining tablespoon of ghee in a large saucepan or Dutch oven over medium heat. Add the cumin seeds, mustard seeds, onion, and paprika, season with salt and pepper, and cook, stirring occasionally, until caramelized, about 7 minutes. Remove the pan from the heat and set aside.
4. When the squash is ready, set the baking sheet on a wire rack until the squash is cool enough to handle. Using a large spoon, scoop the flesh into the saucepan with the spices and onions; discard the skins.
5. Add the water, and measured salt and pepper, stir to combine, and bring to a boil over medium-high heat. Reduce the heat to medium low and simmer, stirring occasionally and breaking up any large pieces of squash, until the flavors meld, about 15 minutes. Remove the pan from the heat and stir in the coconut milk.
6. Using a blender, purée the soup in batches until smooth, removing the small cap (the pour lid) from the blender lid and covering the space with a kitchen towel (this allows steam to escape and prevents the blender lid from popping off). Alternatively, use an immersion blender. (I HIGHLY RECOMMEND INVESTING in an immersion blender. Soooo much easier! Taste and season with salt and pepper as needed. Serve garnished with the pumpkin seeds and/or cilantro, if using.
Remarks
In the winter it is best to eat more rich, warming and nourishing foods to help balance the cold and drying effects of the weather. From a western perspective, Butternut squash is extremely high in vitamin A, vitamin C and vitamin E, thiamin, niacin, vitamin B-6, folate, pantothenic acid, magnesium and manganese. Butternut squash is also an excellent source of potassium. From an Ayurvedic perspective, it helps to balance pitta and vata due to its heavy and sweet nature. This is a great dish to bring to a potluck because it is inexpensive to make, and a real crowd pleaser!
Recipe by Britt Barrett http://www.dailyayurveda.com